Septic Tanks
Septic Tank Systems -

Be Aware of the new General Binding Rules

Septic tanks which discharge into either Soakaways or Ditches/Streams/Rivers are no longer allowed under new legislation.

All existing septic tanks can only discharge into correctly tested and designed Drainage Fields that are designed to BS 6297 2007 + A1 2008 Old fashioned Soakaways are no longer allowed.

Septic Tanks were always the polluting, outdated and more EXPENSIVE choice for off-mains sewage treatment and were often refused permission by the authorities, but now most septic tank soakaways are illegal as well.

You are no longer allowed a Darainage Field if either:

The water table ever gets to within 2 metres of ground level.

The soil drains away to fast or too slow during the Percolation Test
Your site is in a Zone 1 Groundwater Protection Zone, as determined by the Environment Agency. We can find this out for you if you telephone us on 01759 369915.

Under the new General Binding Rules (Environment Agency) all existing septic tanks that discharge to ditches and other watercourses MUST be replaced with Sewage Treatment Plants by 1st January, 2020, or before this date if the property is sold.

A better choice is a sewage treatment plant which can discharge directly to a ditch, stream, etc. They are lower priced, smaller, cheaper to install than septic systems and do not pollute like the old septic tank and soakaway. As the Environment Agency now refuse septic tanks and insist on sewage treatment plants in many areas of the UK, it is essential to check first if one is acceptable before you buy.

We have many customers who cannot use them after they have been purchased and this is a situation that we try to avoid.

Please contact us before you decide to buy a Septic Tank and we can determine whether or not it is the correct choice for your site.

Benefits of the Crystal Low Profile Septic Tank Design

Fibreglass construction

. They do not bend and distort like cheap plastic septic tanks. Click on the link for photos

Odourless

- unique venting design - any smell is vented back through the soil vent pipe.

Low Profile

- shallow installation - cheaper to install - concrete or gravel backfill.

Cleaner Effluent

than 'onion' septic tanks.

Simple Sludge Test

- Only empty as required.

Effluent Filter

- can be fitted in the outlet to keep the soakaway clean.

10 Year Warranty

- The market leading tank warranty is only 12 months.

All units are made to order

- a one-piece fibreglass tank construction which cannot leak - you cut the neck to suit the inlet depth.
Also used as part of the non-electric FilterPod septic system conversion to a sewage treatment plant
SEWAGE TREATMENT PLANTS -

no expensive soakaway required.

It is much cheaper to install a low profile septic tank than a spherical one.

Reasons why:

Almost all spherical septic tanks require a full concrete backfill. This costs far more than a gravel backfill as used by most low profile models.

The spherical 'onion' septic tank requires far more concrete to fill up the voids created by a spherical shape in a square hole.

The 'onion' shaped septic tank has a deeper in-ground depth. The deeper the hole, the more likely it is that you run into trouble with groundwater, running sand, etc. This can double the install cost.

Installation of a Crystal Class 1 Septic system - gravel backfill

Click below for Further Information

Soakaway advice, design and installation

Septic Tank Problems and solutions

Differences between Septic Tanks and Treatment Plants

Do bleaches and detergent affect Sewage systems?

Can a sewage system accept rainwater?

Preparation for Winter and at Christmas

Fibreglass versus plastic septic tanks - Which is better?
Septic Tank Design
Crystal Septic Tanks are our unique design with two chambers giving primary settlement of sewage and allowing secondary settlement before discharge of the effluent. They can also be fitted with a filter to prevent small solids from blocking the soakaway - th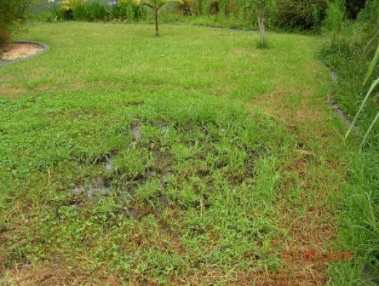 e photo is of a failed soakaway in a lawn.
Small suspended solids are caught in the filter before they can damage the soakaway.
These filters are fitted as standard on septic tank systems all over the world - except for the UK. The filters slot into the vertical part of the 'T' pipe on the outlet pipe inside the septic tank.
The boggy area in the photo is caused by a septic tank soakaway that has failed.
It is also obvious from the photo that it was far too small - the average size should be between 80M² and 160M² and all of it must be 15M from any building.
Most houses today do not have enough garden area for a Drainage Field
Crystal septic tanks are our own Yorkshire design and not available anywhere else. They are designed to be used as part of our FilterPod sewage treatment system.
Unique Septic Tank Aeration System
Crystal septic tanks are unique in that they keep the aeration process that was vital in the old traditional design.
They have a ground level vent pipe on the second chamber. This allows an airflow through the chambers and up through the soil vent pipe keeping the contents sweet and allowing an aerobic 'crust' to form on the top of the effluent. This forms a barrier between the effluent and the air and smothers the smell of the effluent itself. There is an airflow passage through the baffle between the 2 chambers. This allows smells to travel from the last chamber, through the first chamber and back up the pipework to the soil vent pipe on the house wall. Most septic tanks have a solid baffle and the smell is forced out through the lid of the last tank chamber as the gases have nowhere else to go. You cannot seal the tank lids as one of the gases given off is methane and you could turn it into a potential 'bomb'.
Features of the Crystal Septic Tank
No metal struts to corrode inside.

25 year warranty.

Smells are vented back to the soil vent pipe. through the drains and NOT through the lids.

Two access points for emptying, one over each chamber, to make sure that all areas can be seen for sludge removal.

Easy access to the 90 degree bends on the 'T' pipes inside the septic tank, should they block.

The Crystal has a shallower in-ground depth.

Septic tank filters (see picture on right) can be installed to reduce the suspended solids in the final effluent by up to 69%, protecting your soakaway.

Available with different inlet and outlet options.

Complete with moulded-in 1 metre neck extensions (cut to fit)and lids.
Sizes of the Crystal (Litres)

2700

3100

3500

4000

4200

5500

6000

Unless you have very free-draining soil it is unwise to consider using a septic tank for populations over 13 persons as the size and cost of the soakaway will be prohibitive. A sewage treatment plant discharging directly to a ditch is a cheaper option.

Environment Agency Pollution Prevention Guidelines state that septic tanks are only suitable for small-scale developments up to 15 persons.

It is almost impossible to create a soakaway large and porous enough for the amount of liquid produced by larger populations. Even if you have enough suitable ground, the potential for groundwater pollution is too great and as most of the UK's drinking water is now obtained from boreholes, this is unacceptable.
Permissions Required
All septic tank installations, even replacements, need Building Regulations and in some areas, Planning Permission. Always ask about the planning permission requirements of your particular Council before you buy, as some authorities have a blanket ban on septic tanks.
Septic Tanks are not allowed for over 70% of all sites in the UK due to restrictions on water table levels, soil porosity and Groundwater Source Protection Zones. Ring us for details of these in your area.
You also must perform soakaway tests to prove that your land is suitable for a soakaway. 60% of land in the UK fails these tests and failure means that you are not allowed to install a septic tank at all.
Crystal Septic Tank - SPECIFICATIONS
CLASS 1 - Suitable for concrete base and granular (gravel) backfill

CLASS 2 - Suitable for full concrete surround only
Crystal's can be fitted with a Septic Tank Filter which prevents solids from blocking the soakaway.
We recommend White Rose Installations Ltd for septic tank and sewage treatment plant surveys
Downloads
Specifications:
Codes of Practise
British Water codes of practise for septic systems