Sewage Treatment Plants - PRODUCTS
Sewage treatment plant processes fall into two main categories: electrically operated and non-electric sewage treatment systems.
These systems are often called Bio Septic Tanks, Bio Sewage Systems or Biodigesters.
There is no such thing as the PERFECT sewage treatment plant - although the manufacturers will all claim that theirs is the BEST. Each type has plus and minus points, depending on the individual site and most sewage treatment plants are not suitable for low occupation or intermittent use, although, again, the manufacturer will often not disclose this. Please click below for details of our low-cost domestic and commercial sewage treatment systems.
Non Electric. Wind, Solar

Electric - 3 Stage System

Electric - 2 Stage System

FILTERPOD
APEX
VORTEX®

No electricity required

Ideal for 'ECO' building projects

Very high effluent quality

Wind or solar options

5 persons

For domestic and commercial use

Ideal for holiday homes, pubs, campsites and seasonal use fluctuations

Superb Effluent Standard

Can handle low flow rates very well

From 6 to 5500 persons

3 Stage System

Lowest electricity use - from only 35 watts/hour or £30/year

Fully adjustable for low populations

Superb Effluent Standard

Lowest Installation Cost

4 to 30 persons

2 Stage System

Distributors Wanted
Other Information
Domestic sewage treatment systems are used when it is not possible to install a septic tank. This is often due to high water tables, high levels of bedrock or clay soils giving a soakaway test failure. If the trial site assessment hole or percolation tests fail, then you cannot have an underground soakaway drainfield.
Sewage Treatment Plants solve many drainage disposal problems when mains drains are not available and need not cost the Earth. They are also cheaper than septic tanks with soakaway drainfields as they can discharge directly into a ditch.
Crystal Tanks can survey your individual site and recommend which system, either a septic tank or a particular wastewater treatment plant, would be most suitable.
Electric Waste Water Systems
The electric systems consist of a small electrically driven packaged unit, usually all contained in one tank or housing.
Not all sewage treatment plants use the same amount of electricity - not even if they share the same treatment process. For example, the VORTEX® ASP low energy 6 person sewage treatment system uses 35 watts/hour, whilst another competitors 6 person ASP sewage treatment system uses 135 watts/hour.
2 Versus 3 Stage Waste Water Systems
In 3 stage wastewater systems, the sewage is first settled to remove the gross solids and then biologically treated in an aerated biozone, consisting of rotating discs, or air injection, with a final settlement stage to remove the fine solids. The effluent is discharged, on average, 95% clean, to a land drainage system or watercourse, (subject to Local Authority and Environment Agency Consents). The Apex is an example of this system.
In a 2 stage wastewater system, the sewage goes directly to the aerated biozone where solids are digested along with the pollutants in the liquid part of the effluent. The liquor then transfers to the clarification chamber where it separates into clear water and solids which are returned to the biozone for re-digestion. The VORTEX is an example of this system.
Maintenance and emptying is required at regular intervals, depending on the percentage occupancy and the plant design loads. This interval varies from plant to plant and many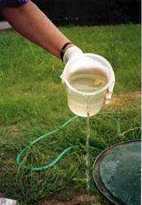 manufacturers claim extended intervals that are not possible in practise.
There are many variants of packaged plants available on the market; the Apex® and VORTEX® are only two of them. The VORTEX® low energy sewage treatment plant is the lowest cost, lowest electricity use and highest quality effluent electric treatment system in the UK, but if your site has intermittent use, it may not be suitable.
Non-Electric Waste Water Systems
The non-electric treatment process uses natural air currents to power the process. The FILTERPOD sewage treatment plant system is an example of this type of sewage treatment system and is a UK design. They don't need spare parts as there are no blowers, pumps, diffusers or pipework to replace. They also save around 0.5 tonnes of Carbon Dioxide emissions per house per year, reducing greenhouse gases. They are very suitable for intermittent use.
Non-electric sewage treatment systems are the future for small scale sewage treatment. They also have a solar-powered option.