Sewage Treatment System Options and Costs
Off-Mains Sewage Treatment Options
Cesspools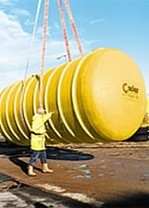 A Cesspool is an enormous, fully sealed underground wastewater holding tank having only an inlet and no outlet. A cesspool is designed to hold all sewage and wastewater effluent and does not carry out any treatment of the sewage whatsoever. It is also sometimes refered to as a Cesspit.
Many people also to refer to their septic tank as a "Cesspit". You MAY have a cesspool or it may be a septic tank. If it has an outlet, irrespective of the size of the tank, it is a septic tank, not a cesspool.
A cesspool (cesspit) simply stores sewage and can only be emptied via a suction tanker.
The installation cost and annual running cost of a cesspool is prohibitive.
Cesspool units should only be installed as a last resort where a septic tank or treatment plant would not be possible, due to the lack of a watercourse, high winter water table, installation in a Groundwater Source Protection Zone, or the wrong type of soil for a Drainage Field to be installed.
Running costs for a family of 4 are about £7000 to £9000/year
We always consider the options that are available to your site and we can give a report and quotation for the preferred system.
Rainwater must be kept out of all sewage systems.
---
Septic Tanks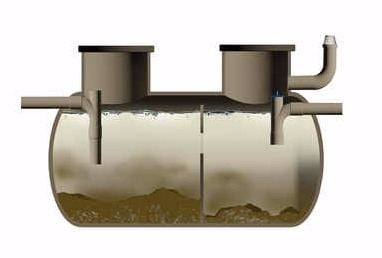 Septic Tank Systems
used to be the common method of treating sewage in rural areas. They are now only usually acceptable for small-scale developments up to 15 persons and are banned from use in large areas of the UK.
They consist of a holding tank which partly breaks down the solids by anaerobic bacteria before discharging the liquid effluent through the outlet pipe into a septic drainfield soakaway. Septic tank effluent contains 70% of the original pollutants that are in the raw sewage.
Unfortunately, the effluent they produce is very polluting and can ONLY be discharged into a septic drainage soakaway, if the ground conditions allow.
The soil must be able to soak away the required volume. Clay soils will NOT support soakaways.
The water table or bedrock MUST NOT rise to within 1 metre of the bottom of the soakaway gravel under the pipe at any time. This means that your water table must never rise to within 2 metres of ground level.
The site must not be in an E.A. Inner Groundwater Source Protection Zone. Ring Crystal Tanks to determine this.
The septic drainage soakaway alone usually costs between £4000 and £12000 to construct. You cannot discharge to a watercourse from a septic tank, nor can you allow the effluent to leak into a watercourse as the fines are enormous.
Any septic tank that does discharged into a ditch or watercourse MUST be replaced by a sewage treatment plant as soon as possible, or at point of sale if the property is sold.
---
Sewage Treatment Plants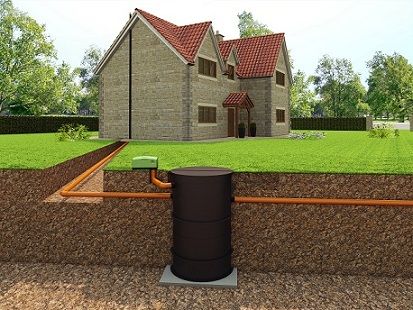 Sewage treatment plants
have replaced septic tanks. They clean the wastewater to a high standard and the effluent can be discharged either to a soakaway, if the ground conditions are suitable, OR to a watercourse, as long as you conform with the
General Binding Rules of the Environment Agency
. The effluent is non-polluting if the plant is used and maintained correctly.
Typical installation costs are between £6000 and £12,000, depending on the type of plant and the ground conditions of the site.