Sewage Treatment Plant Maintenance, Servicing and Installation
Servicing, Maintenance and Installation offered for Septic Tank and Sewage Treatment Plant
Crystal Sewage surveys
We offer site sewage and septic tank surveys within 100 miles of York and can design your septic tank drainage system or sewage treatment plant design free of charge. We also have a network of trained installers who cover the remaining areas of the UK and who will also provide wastewater surveys.
Crystal Sewage Plant Installation
Crystal Tanks offers a variety of options for the installation of Crystal sewage treatment plants.
We can advise and guide you through the process or can provide a 'turnkey' installation package including the commissioning of your Crystal sewage treatment system. Please contact us for details. We arrange installation nationwide.
Crystal Servicing and Maintenance
Crystal sewage treatment plants, in common with most others, require servicing either once or twice a year, depending on the model.
We offer sewage treatment plant maintenance package with Sapphire Environmental Ltd starting at only £150.00 for a single house unit.
CORRECT MAINTENANCE AND SERVICING RECORDS FOR YOUR SEWAGE TREATMENT PLANT ARE INSISTED UPON BY THE ENVIRONMENT AGENCY AND FORM A CONDITION ON THE CONSENT TO DISCHARGE.
ALWAYS insist on seeing the Service Engineers British Water Accreditation card.
NEVER ALLOW UNQUALIFIED PERSONS TO TAMPER WITH YOUR SEWAGE TREATMENT UNIT!
Sewage units which are not serviced regularly POLLUTE our streams and rivers and lead to prosecution by the Environment Agency
Crystal Repairs
There is very little to go wrong with a sewage treatment plant supplied by Crystal, but if something untoward happens to your unit, we offer a quick repair service.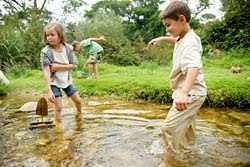 Keep our rivers safe for our children